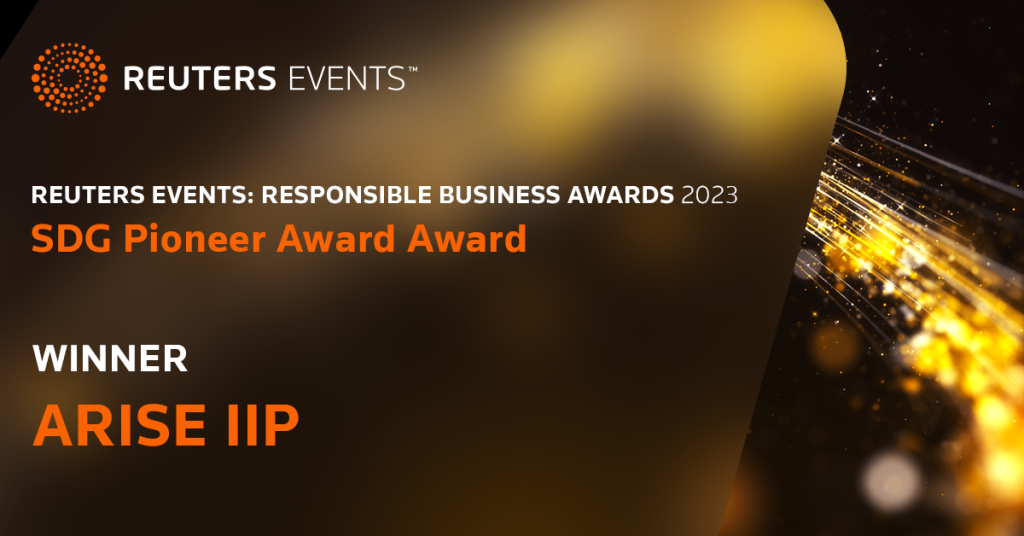 London – ARISE IIP, the pan-African developer and operator of world-class industrial parks won the Reuters Sustainability Pioneer Award at the 14th Responsible Business Awards hosted by Reuters Events. The announcement was made at a ceremony in London where over 280 finalists from all over the world came together to celebrate where sustainable excellence of business. ARISE IIP was also a finalist for the Circular Transition Award.
Responsible Business Awards are a world-renowned celebration of strategies and organisations that are truly challenging the status quo of business and transforming the world around them for a more purpose-driven, sustainable future for all. With over 700 applications coming from 51 countries, Arise IIP was selected by an independent panel of 25 expert judges from all over the globe based on the innovation, impact and scalability of their work.
This year the Reuters Sustainability Pioneer Award recognizes the Garment Training Center located in the Glo-Djigbe Industrial Zone (GDIZ), the industrial park built by ARISE IIP close to Cotonou in Benin. 500 young people are receiving on-the-job training at this ambitious textile park equipped with state-of-the-art technology, delivering exceptional quality and high productivity.
The judges said of ARISE IIP achievement: "ARISE's work fully embodies the term 'pioneer' in the way they are working. They are designing an industry with equity and people's livelihoods at its core, and they've created this remarkable, replicable model, starting in Benin, which is scalable to other parts in Africa, and even to other parts of the world. Incredible innovation and scalability, meeting multiple SDG goals through one pilot business and replicable into a human centered industry."
Ramakrishnan Janarthanan, Chief Operating Officer of ARISE IIP textile projects: "We are very proud of this award which rewards all our efforts over the past years. Based on 4 key principles – traceability, circularity, sustainability and skilling – the model we have designed in Benin aims to be replicated in other African countries, a continent that has all assets to play a growing role in the textile industry in the coming years."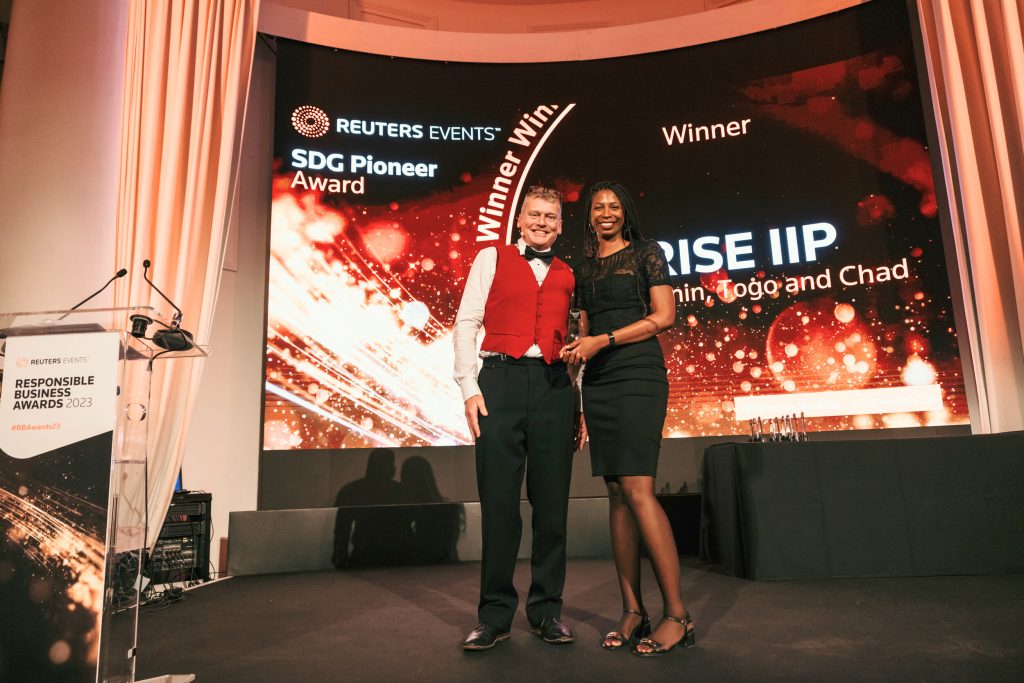 About ARISE IIP
ARISE Integrated Industrial Platforms (ARISE IIP) is a pan-African developer and operator of world-class industrial parks committed to making Africa thrive. We identify opportunities in commercial and industrial value chains across Africa, and conceive, finance, build and operate the necessary infrastructure, playing a catalytic role in supporting countries to transition to an industrial economy. We are driven by the pursuit of green growth; our ambition is to unlock the continent's industrial potential while neutralising our carbon emissions and climate impact. ARISE IIP is currently present in Benin (GDIZ), Togo (PIA), Gabon (GSEZ), Côte d'Ivoire (ZIC), and more. GSEZ was ranked the world's best special economic zone in the timber sector (2020 FDI ranking).
About Reuters Events Sustainable Business
Reuters Events Sustainable Business aim is to help businesses around the globe do the right thing by their customers and the world. We believe this is not only how to guarantee a future for all but makes good business sense. We serve sustainability, communications, supply chain and ESG with topical and insightful business intelligence and meeting places. We provide business intelligence to more than 3,000 multinational companies every year. Our customers are also NGOs, think-tanks, academia, governments and consultancies. We publish the leading responsible business magazine, website, and research reports. Our conferences are widely recognized as the best in the field bringing together CEOs, heads of business, ESG investors and public bodies to shape the future of responsible business. We're a part of Reuters Events and based in London.
Contact:
Sarah Adnane
Chief Communications Officer, ARISE IIP
sarah.adnane@arisenet.com