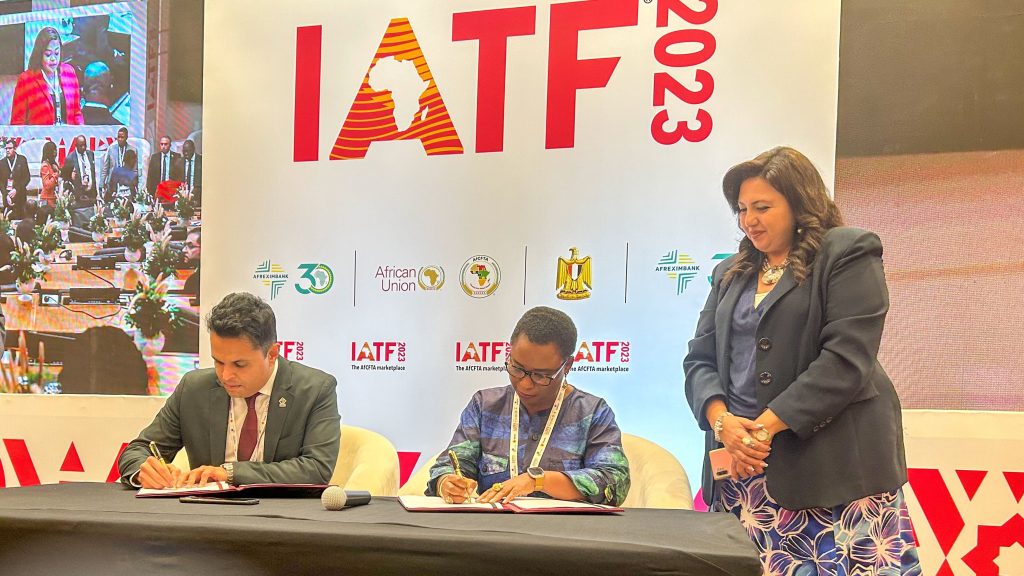 ARISE Integrated Industrial Platforms (ARISE IIP), the pan-African infrastructure developer and operator, is proud to partner with Afreximbank, one of its shareholder partners, to deploy the African Quality Assurance Centre initiative (AQAC) within the industrial parks developed by ARISE IIP in Benin and Gabon.
The African Quality Assurance Centre is an initiative created and developed by the African Export-Import Bank ("Afreximbank") with the aim of supporting African countries to improve their capacity in complying with international standards and technical regulations and thus promoting exports and facilitating intra – and extra – African trade as well as ensuring the safety of products for consumption locally in Africa.
Deploying these state-of-the-art centres in the Glo-Djigbé Industrial Zone (GDIZ) located in Benin, and the Gabon Special Economic Zone (GSEZ) in Gabon, and potentially in other African countries in which ARISE IIP operates, is the result of a strong partnership between Afreximbank and Arise IIP. The shareholding structure will be negotiated, incorporated into, and agreed upon between the parties in the binding contract following concluding the feasibility study on the project.
AQAC's objective is to provide testing, inspection, and certification services, to ensure that "Made in Africa" products for consumption within and outside the continent meets the required safety and health standards. Testing centers will focus on value chains developed in industrial parks, such as timber certification in the Gabon Special Economic Zone (GSEZ), textile and agro-processing in the Glo-Djigbé Industrial Zone (GDIZ). This endeavour will facilitate the export of high level African products that comply with export requirements, applicable standards and technical regulations, to international markets.
Gagan Gupta, Founder and CEO of ARISE IIP commented: "This initiative represents a significant milestone in our ongoing partnership with Afreximbank. It underscores our shared commitment to fostering industrialization initiatives throughout the African continent. By implementing the African Quality Assurance Centre within Arise IIP's zones in Gabon and Benin, we aim to bolster the capacity for high quality control and standardization of 'Made in Africa' products."
For the past few years, ARISE IIP has experienced a remarkable expansion across more than a dozen African countries. For reference, in Gabon, ARISE IIP manages the Gabon Special Economic Zone (GSEZ) which focuses on the timber industry, and has created 16,000 jobs, attracted 120 investors, and enabled Gabon to move from being an exporter of logs to the world's 2nd largest producer and exporter of veneer, as well as the first in Africa. Across the continent, ARISE IIP's primary drive has always been the creation of industrial ecosystems committed to generating high local added value along with sustainable growth.
In Benin, ARISE IIP operates the Glo-Djigbé Industrial Zone (GDIZ) dedicated to the local transformation of agricultural product including cotton, cashews, pineapples, shea nuts and soybeans, among others. ARISE IIP also manages the Adétikopé Industrial Platform (PIA) in Togo which concentrates on the local transformation of agricultural product.
In addition, ARISE IIP has undertaken the building of economic zones in the Republic of Congo, Ivory Coast, Nigeria, Chad, Democratic Republic of the Congo, Rwanda and Sierra Leone.
About ARISE IIP
ARISE Integrated Industrial Platforms (ARISE IIP) is a pan-African developer and operator of world-class industrial parks committed to making Africa thrive. We identify opportunities in commercial and industrial value chains across Africa, and conceive, finance, build and operate the necessary infrastructure, playing a catalytic role in supporting countries to transition to an industrial economy. We are driven by the pursuit of green growth; our ambition is to unlock the continent's industrial potential while neutralising our carbon emissions and climate impact. ARISE IIP is currently present in Benin (GDIZ), Togo (PIA), Gabon (GSEZ), Côte d'Ivoire (ZIC), and more. GSEZ was ranked the world's best special economic zone in the timber sector (2020 FDI ranking).
About Afreximbank
African Export-Import Bank (Afreximbank) is a Pan-African multilateral financial institution mandated to finance and promote intra-and extra-African trade. Afreximbank deploys innovative structures to deliver financing solutions that support the transformation of the structure of Africa's trade, accelerating industrialization and intra-regional trade, thereby boosting economic expansion in Africa. A stalwart supporter of the African Continental Free Trade Agreement (AfCFTA), Afreximbank has launched a Pan-African Payment and Settlement System (PAPSS) that was adopted by the African Union (AU) as the payment and settlement platform to underpin the implementation of the AfCFTA. Afreximbank is working with the AU and the AfCFTA Secretariat to develop an Adjustment Facility to support countries in effectively participating in the AfCFTA. At the end of 2021, the Bank's total assets and guarantees stood at about US$25 billion, and its shareholder funds amounted to US$4 billion. Afreximbank disbursed more than US$51 billion between 2016 and 2021. The Bank has ratings assigned by GCR (international scale) (A), Moody's (Baa1), Japan Credit Rating Agency (JCR) (A-) and Fitch (BBB). The Bank is headquartered in Cairo, Egypt.
Contact:
Sarah Adnane, Chief Communications Officer, sarah.adnane@arisenet.com