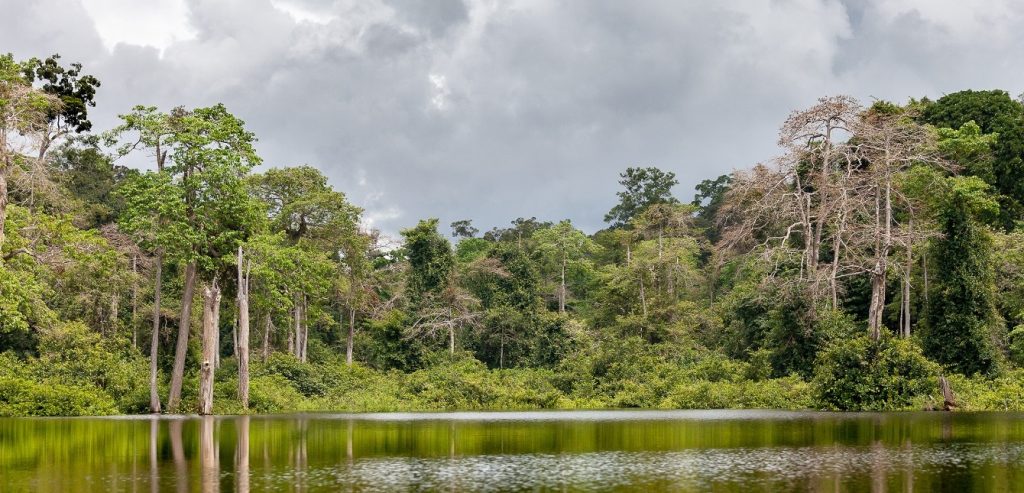 Gabon, a country situated on the Western coast of Africa, has managed to keep up with both domestic and international demands without putting exhaustive pressure on its treasury of natural reserves. The secret to the economic success of the country comes from a range of factors, proven by various research journals and organizations like the World Bank and African Development Bank.
Gabon – West Africa's hub for precious natural resources
From commercially popular resources like crude oil to utility-based resources like wood from vast Gabonese forests, the region is blessed with resources that have decorated the economy with a high rate of CAGR. Different varieties of trees can be found in Gabonese forests, which provide rich timber for the profitable furniture and plywood sector. Most of Gabon's population is involved in agriculture and participates in export businesses to enhance their earnings.
The majority of Gabon's land is utilized for farming-associated activities as most people depend on this all-weather occupation to sustain their earnings. The government also pushes for the development of the timber, pharmaceuticals, logistics and infrastructure sector. Given below are five reasons which make Gabon an attractive investment destination.
1. Abundant natural resources
Gabon's strategic geographical positioning and favorable climate condition have played a key role in the consistent growth of the economy and its people. The region contains massive reserves of both globally scarce resources like oil and gas to globally cherished resources like forests. What is even more impressive is the GDP growth rate of the economy without compromising sustainability factors. The dense forest covers close to 80% of Gabon's land, supporting wood-based industries. The sector registers considerable demand from foreign players, expanding the list of export items from the country.
2. High political willingness to improve the business environment
The business environment, over the years, has changed drastically for existing companies, attracting new ventures using systematic and structural reformation practices. A lot of these efforts have resulted in the dynamic expansion of the business community. Much can be traced back to the determined political affirmation and policies introduced over the past few years. Recent example being the Local Infrastructure Development Project, introduced in collaboration with the World Bank. The project aims to improve transparency in urban investment while providing employment opportunities to residents. Government authorities in Gabon have become more pragmatic and are implementing sincere efforts in the direction of improving trade ties while reducing import dependence.
3. Ideal location to navigate other West African trade markets
Gabon has not only established overall great relations with the West and South-Asian countries but has also boosted efforts to strengthen its relationship with neighboring countries. Between 2009 and 2020, the exports of Gabon to Equatorial Guinea increased at an annualized rate of more than 22%. Similarly, the list of export items has equally expanded for Cameroon, with the increase registered at more than 6% annualized rate. However, there is significant room for expansion by improving the production and processing rate of the current list of goods, while focusing on value addition.
4. Multi-sectoral opportunities
Agriculture has been one of the core sectors of Gabon's economy for the past few years. The abundant opportunities for agro-processing have further expanded the potential of the sector to grow and develop. However, the abundant natural resources combined with a surging population also triggered demand for multiple other industries. Demand for consumer goods, FMCG, logistics, transportation and communication services are showing a drastic increase as new players aim to serve the market through innovative strategies.
5. Staunch advocate for sustainability
When it comes to tangible results associated with carbon emissions reduction and reducing resource wastage, Gabon walks the talk with full-scale missions on net-zero initiatives and inclusive growth. With 85% of the country covered in forests, the growing political will to protect and preserve them for future generations is an example for countries around the world. The tracer initiative by GSEZ introduced in 2018 is a glowing example of the same. The tracer initiative ensures that wood variety entering the industrial zone is 100% legal and can be traced back through data to ensure compliance.
Invest in Gabon to give your Business the African nudge it needs
Over the years, the economy of Gabon has undergone massive reformations to make it more attractive for investment. The end number of structural changes, public works projects, and an expanding population are not only attractive from an investment point of view but are also indications of a fast-expanding economy. Overall, Gabon is well-placed to assist businesses and investors to better reach out to their target audience while improving their services.